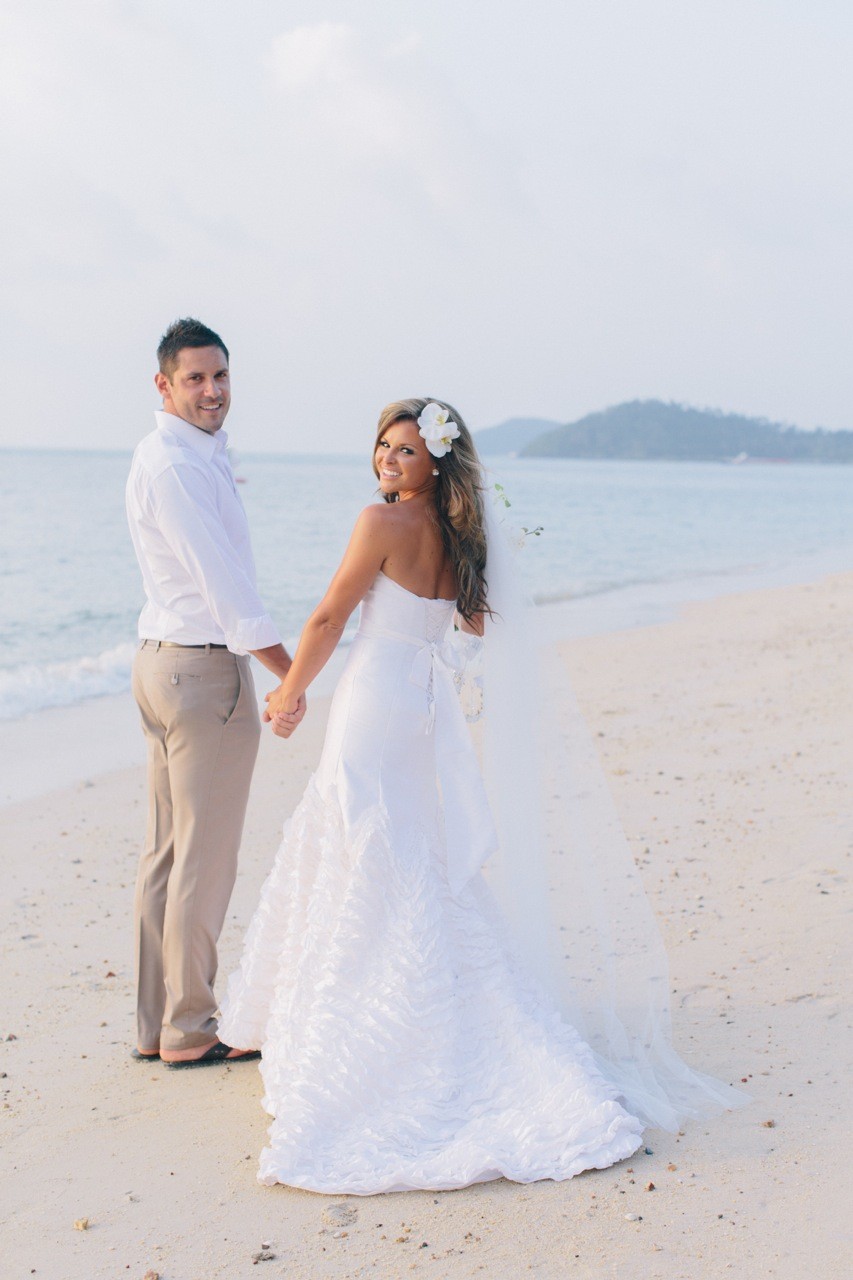 Your Koh Samui Wedding
Koh Samui is a picturesque, island location for your destination wedding. With a backdrop of white-sand beaches, sparkling green seas, lush forest and swaying palms, your Koh Samui wedding will be a trip to paradise for you and your guests. Easily reached by a short, sub-two-hour flight from Singapore, Kuala Lumpur or Bangkok, and only three hours' flight from Hong Kong, Koh Samui is a convenient wedding destination for you and your guests.
With a warm, tropical climate year round, Koh Samui is perfectly suited to a relaxed, beach or resort wedding. Experiencing exceptional weather between January and March and favourable weather through to September, there are plenty of timing opportunities for your Koh Samui wedding – particularly when celebrating any day of the week is an option. Get set for endless sunshine, delicious local cuisine and unsurpassed value for your special day. From October to December, our Krabi, Khao Lak and Phuket weddings are more popular given the typically better weather than on Koh Samui, making Thailand a wonderful wedding destination any time of year.
Why Take Us To Thailand
Experts at creating relaxed and memorable Koh Samui weddings, Take us to Thailand has been planning destination weddings and group Thailand holidays for over 10 years. Knowledgeable and experienced, we take the guesswork out of coordinating your Koh Samui wedding with beautiful results.
Following initial consultations to discuss your ideas, holiday plans, styling, group size and budget, Take us to Thailand helps you choose the most suitable Koh Samui wedding venues and guest accommodation options. All the extras including food and beverage, celebrants, marriage legalities, flowers, hair and make up, entertainment, photography, babysitting and transport options can all be effortlessly taken care of in either our boutique planning service or Koh Samui wedding packages.
Boutique Planning Service for Koh Samui Weddings
Our popular bespoke planning service offers complete customisation of your luxury Thailand wedding and holiday. With an explicit planning fee agreed at the outset, we ensure absolute transparency and independence every step of the way. Guiding you through all the details of your Koh Samui wedding and group holiday, we advise on everything from entertainment to hair and make-up to ensure your time in Thailand is effortless, excellent value and a reflection of you. From a boutique resort to a secluded jungle villa, our local insight, trusted suppliers and honest approach leave nothing to chance when planning your Koh Samui wedding. Following extensive consultations, allow us to bring to life your Thailand wedding day with our seamless, personalised planning process that results in only the highest quality events.
Learn more about our boutique Koh Samui wedding planning services